Free Online Introductory Webinar ($195 Value)
The Art of Being in the Body:
Accessing Body Intelligence for Peak Performance
Tuesday, May 23
5 PM PDT – 7 PM CDT – 8 PM EDT: USA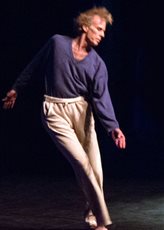 Those who can access their body's inner language—the gut-level feelings, the heart's desires, what moves and what doesn't—navigate through life with much greater power and integration. Join Michael in an experiential dive into the core centers of your body-mind. You'll learn how to:
• Discover your true body intelligence: how to easily recognize your inner signals of "yes" and "no"
• Enhance your intuitive capabilities for receiving and acting on the messages from your body
• Release constrictions and tensions with very simple body-centered techniques
• Supercharge your creativity by accessing that source from which the creative energy of the Universe bubbles up…right inside your own body field
Simply put–everybody's talking about 'getting out of their head' so you can be more in your body. This 1 hour Webinar will map a clear path towards this art of Being in your body, along with the benefits of peak performance that go with that territory.
To register: Email michaelksternfeld@gmail.com with the subject line, I'm IN for Embodiment.
Register early. Enrollment limited to 20.